Hello to all my friends who follow Jim Quick & Coastline!
Last weekend, we found the boys at #2 and #5 on the Surf Countdown. Don't forget to vote this week. Coastline needs help to keep the songs at the top of the chart.  Thanks for supporting the Surf Countdown with Mike Worley every week. Last week was really crazy with all the new fans coming from other bands. I want to congratulate GT with Cat 5 on getting the newest song to #1.
Swamp Soul Show
Have you heard the new radio show yet? Check to see when its playing and make sure you take an hour to listen to Jim Quick's Swamp Soul Show at least once a week. Is there anyone reading this update that listened more than once last week?  Thanks for all the feedback and support.  The show is growing and we thank all the stations that are playing it every week. Special THANKS to our Advertisers and Sponsors; Zaxby's, Scotland Motors, Gammons Restoration, Regenerating PBS Wristband, Grand Strand Vacations, Preppy Pirate Outfitters and the Shoe Center.  Visit SwampSoul.com
"Back to the Roots"
This is a big weekend ahead for the guys.  Will you see them at one of these shows? I hope to catch them Thursday and Sunday.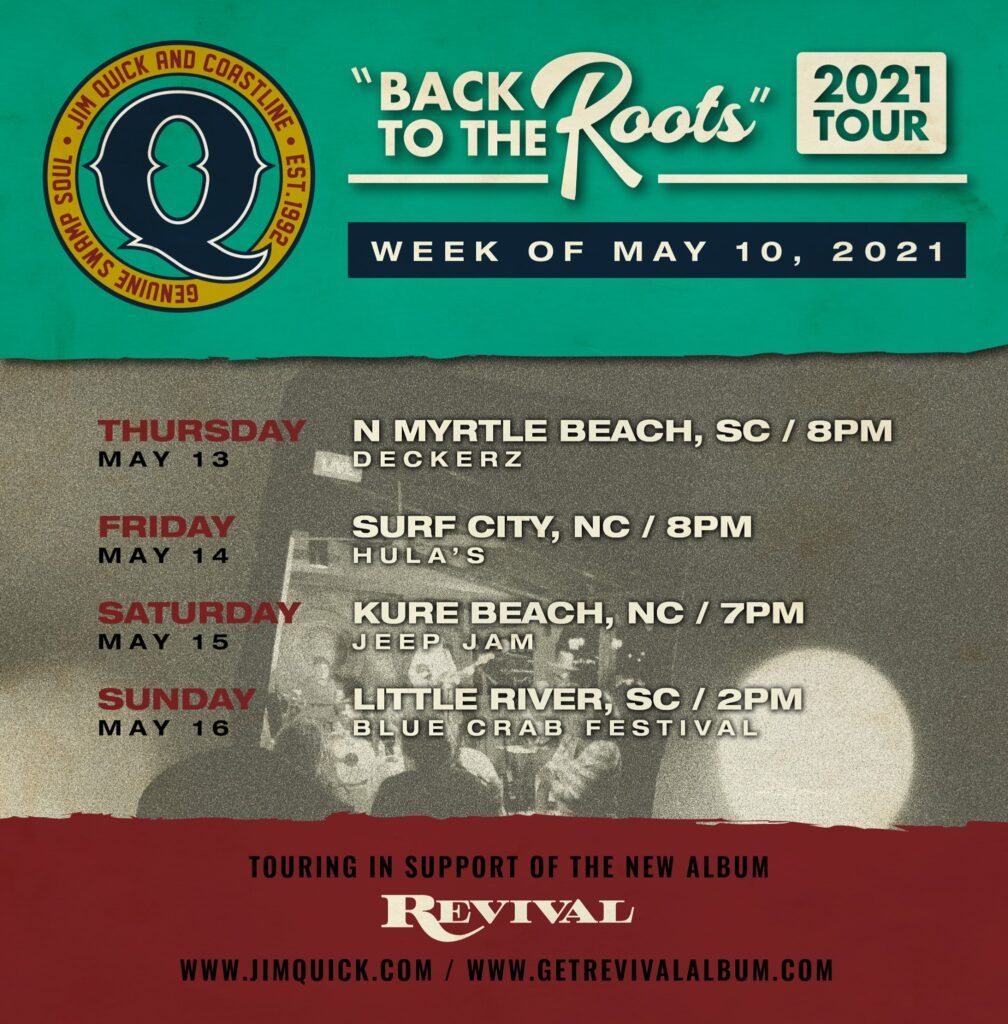 Chickens in Shoes #3
Have you ordered "Rooster in Reds" yet? You can order it now from ChickensInShoes.com
Look for prints this weekend at one of the shows. I know all 3 prints will be available at the Blue Crab Festival in Little River on Sunday.
Coastline Crazies hit 5000 members
Did you see the post by Cathy? We hit 5k this week on Facebook. Awesome Job by everyone that shared the link and promoted the Coastline Crazies Group membership on facebook.  Keep watchin' for new stuff posted by other Coastline Crazies.
Thanks for checking on my Wednesday update,
~Bo the Webguy
Are you following me on Webtalk? Some big things are about to happen on webtalk.
We hope you are on there when it does. Click HERE and see if you are being followed by Jim Quick.