It must be time for a Tuesday Update from ME – Bo the Webguy!
I talked to Jim on Saturday at Noon – He is very thankful for all of the Coastline Crazies that rated the songs this past week. Y'all kept them at #1 and #2 on the Countdown. He said do it again. Do it again! Visit Surfcountdown.com and rate "Fool for You" a 10. Rate "Buzzin and Swingin'" a 10 and rate some other songs you like.  There are some really good songs on that list for your ratings attention.
Last weekend was BIG for the boys in the band. I know every show was pretty great based on what I saw on facebook. It looks like Sunday was incredible. Everyone was happy that Trent decided to postpone the YETI Beach Fest on the Farm from the original date. The Pirate sold a lot of coastline merch and Jim sold a few chickens! YAY! If you weren't there, maybe you saw Jim's LIVE Video on facebook and wished you were there. I missed it this year.
I hope to see a few crazies this Friday and Saturday  in North Myrtle Beach!
This Weekend with Coastline
MAY 28 – FRIDAY – NORTH MYRTLE BEACH, SC – LOCAL ON THE WATER – 7PM
MAY 29 – SATURDAY – NORTH MYRTLE BEACH, SC – FREEDOM BOAT CLUB – 1PM
MAY 30 – SUNDAY – CAPE CARTERET, NC – CEDAR POINT – 2PM
Next Thursday – June 3rd The Boys kick off Music on Main – ITS A FREE CONCERT IN NMB! Be THERE!
What! We have some big news to drop on you next Thursday – I hope you can make it. If you can't make it  to Ocean Drive to see the guys… you will probably hear about it the next day. Its gonna be BIG! I promise!
QUESTION: Are you booked for the Florida Trip in October? We have more rooms available – Come Go With US! click here to book your trip
Chickens in Shoes
If you are a number collector and have not ordered your Rooster in Reds print to match the other 2., then you have a few more days to do so. Buy Today or Contact Me at 843-280-9000 if you want Chicken #3 to match your numbered prints. Chicken #4 is hatchin' on Wednesday ( I think) Visit ChickensINShoes.com
Guess who has a new website!
I know everyone loves Jim's Chickens. He was inspired to paint his chickens after seeing his cousin posting her recent artwork on facebook. Well.. there is a website to buy her prints now. Check out his cousin's prints at CousinLuLu.com – The newest ones are in production now and will be available very soon!
Jim said this about her.. not about himself.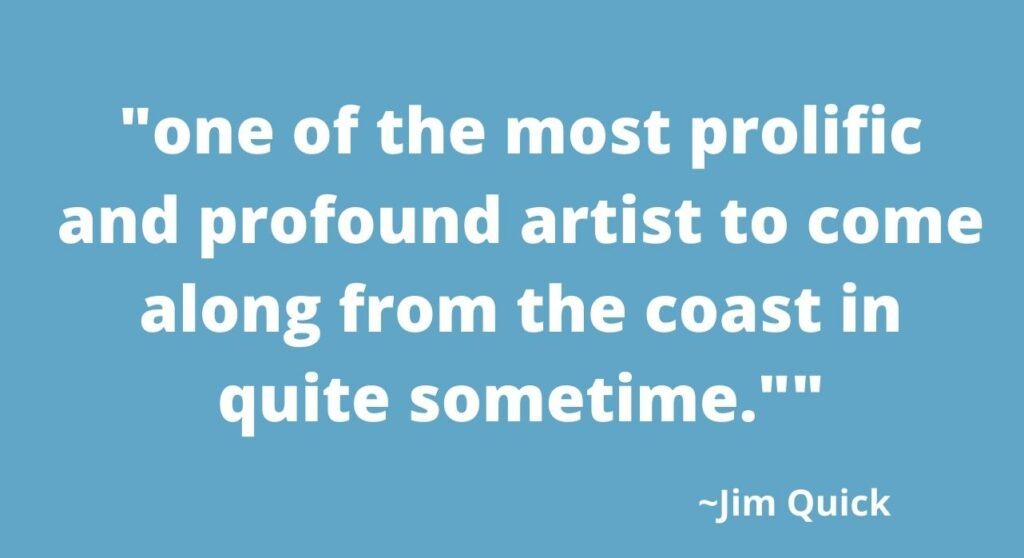 If I don't see you this weekend… I hope to see you next Thursday.. or at SOS Spring Safari in June. Lot of stuff coming up!
~Bo the Webguy