I had fully intended to post a Sunday update, but if you happened to see me on Friday or Saturday…you can appreciate why I took Sunday to rest up. Here is a Monday update instead.
It was a great weekend on so many levels. Doing a festival like the 4th Annual Ocean Drive Beach Music Festival  presented by Carolina Outdoor Power Equipment and 94.9 The Surf  is a lot of work. On behalf of the team, I thank all that attended and showed up for our biggest event yet. It was so good to see so many Coastline Crazies at the show. Many thanks to Tiffiney and Melanie for the refreshments late in the day! Jim and the boys closed the show and were GREAT as always. I think Chris with Preppy Pirate sold a few shirts this weekend.
Did you see the New Coastline Tour Shirt?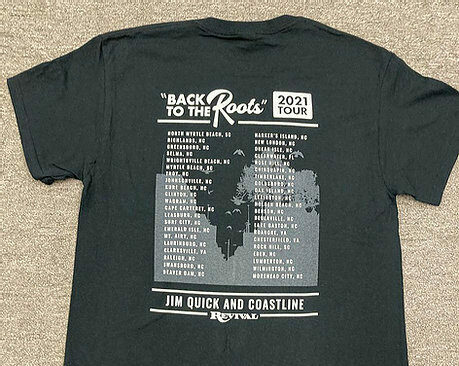 Still Charting!
If you were not here in OD with us at the festival, you probably heard the Surf Countdown. The 2 songs from the Revival Album made it to #2 and #3 after being on top last week. Congrats to GT with Cat5 for getting to Number 1 this week and the debut of the new song at #6. See this week's chart at SurfCountdown.com and don't forget to vote this week.
Jim Quick's Swamp Soul Show
The new radio show debuted on several radio stations across the Carolinas and Interwebs. Let us know what you think about the show. Check out this list of Swamp Soul Show songs that were featured on the Radio Show.
Chicken Update
We mailed out a lot of chickens in the last couple of weeks. You may be able to find some available at the upcoming Coastline shows. Thanks to all that have purchased one of Jim's Chickens in Shoes Prints. We hope to be releasing chicken #3 very soon. If you would like a special request to have the same number print as a collection, please let me know so we can hold the number for you.
Thanks for Supporting the Hottest Band in the Land. I hope to see you soon!
~Bo the Webguy